Whole grain risotto with fondant cream of peppers and tomatoes with a perfume of rosemary, oil, fresh caciotta and almonds
Ingredients for 4 persons:
300 g of whole grain rice
4 bay leaves
2 yellow peppers
1 red pepper
4 tomatoes mature
3-4 sprigs of fresh rosemary
about 120-150 g of caciotta or fresh scamorza
about 60 g of almond flour
Olio Poldo Monocultivar Coratina
salt
Method of cooking:
Place the rice in a pot along with washed laurel leaves, wet with 900 ml of cold water, bring to a boil,put little bit of salt, partially cover and bake all over low-medium fire for about 30-35 minutes, allowing to absorb all the liquid in cooking and keeping the rice grains slightly cooked.
In the meantime wash the peppers, divide them in half by removing petiole, seeds and filaments, cut them into pieces and put them in a saucepan.
Add the peeled tomatoes, deprived of seeds and cut into chops, sprigs of rosemary, a glass of water, and 2 tablespoons of abundant olio Poldo
Put salt, cover partially and bake for 20-25 minutes until peppers are released, leaving them free of liquid but with a kind of dense syrup.
Once ready to separate the bare rosemary leaves leaving the leaves, whisk them into a scented cream.
Remove the bay leaves and mix the rice cooked with the cream of peppers heating and mixing over a low heat, distribute in the dishes and lay over thin slices of fresh Caciottina around sprinkle with almonds flour and drizzle with more olio Poldo monovarietale Coratina
Decorate with rosemary sprigs, let cheese partially dissolve with the heat of the rice and before tasting mix everything together: rice, cheese, oil and almonds.
Additional information
Course: first course
Difficulty: Low
Preparation Methods: 20 minutes
Cooking times: 35 minutes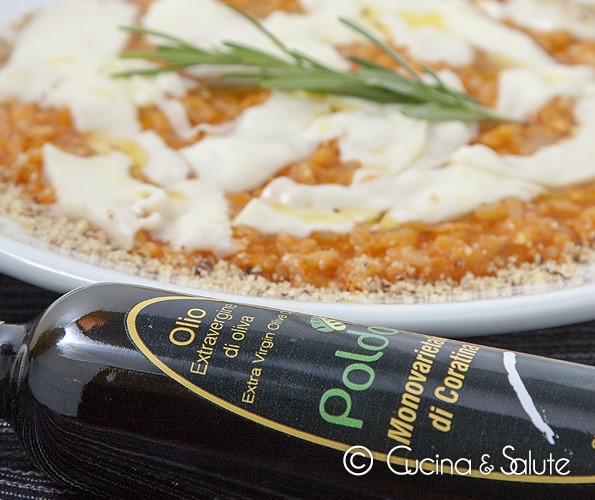 Chef Giuseppe Capano on Cucina e salute
---
Pici with porcini and light cream with Parmesan cheese
Ingredients for 4 persons: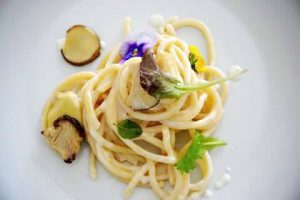 320g of Picio pasta
3 medium sized porcini mushrooms
1 onion cut into julienne
220g of Parmesan cheese
250g of cream
Olio Poldo Monivarietale from Picholine oil , a spoon to grind the porcini
Salt
Pepper
Olio Poldo Oil to finish the dish
Chef Carlo Le Rose
---
Gluten-free revisited tomato soup
Ingredients for 2 persons:
400g tomato paste
8 slices of gluten-free bread
300g vegetable broth
15 basil leaves
Pepper
25g Olio Poldo Monocultivar Picholine
1 garlic clove
1 teaspoon of sugar
2 teaspoons salt
Chutney onion
Chef Carlo Le Rose
---
Christmas Eve Fusillotti
Ingredients for 2 persons: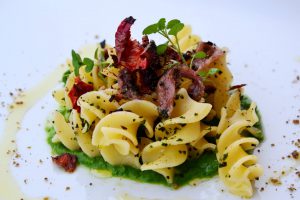 160g GlutenFree fusilli
8 desalinated anchovies
50 grams of IGP lemon powder
50 gr of dehydrated and milled turnip roots
6 chopped peppers
150g of rapeseed cream
80 gr of hazelnut powder
Olio Poldo Monocultivar Raggia
salt
Chef Carlo Le Rose
---
Gnocchi with fake carbonara
Ingredients for 2 persons:
160 gr of ricotta gnocchi
8 of bacon slices
a sachet of saffron
80 gr of cream of pecorino chees
Salt
Pepper
Olio Poldo Monocultivar Raggia
Chef Carlo Le Rose
---
Gourmet Arancino
Cooking Nano rice vial:
250 gr of rice
1 sachet of saffron
500 ml of water
30 gr of butter
2 teaspoons of ginger
Salt and pepper
Condiment:
Half onion
80 gr of peas
30 gr of caciocavallo
40 gr of mozzarella
30 gr of turmeric
3 gr of chili
4 g of curry
Salt
Pepper
Olio Poldo Monocultivar Coratina
2 eggs
Ingredients for rolling:
Rice flour
Egg
Breadcrumbs GlutenFree
Chef Carlo Le Rose
---
Tortello Spinach, truffle and goat cheese
Fresh pasta:
200 grams of pasta mix
2 eggs
1 chair
15 ml of Olio Poldo
20 ml of water
Stuffing ingredients:
Truffle as needed
100 g goat cheese
salt
Olio Poldo oil
pepper
80 gr mortadella
The dish is finished with fresh truffle and Olio Poldo Monocultivar Leccino
Chef Carlo Le Rose
---
Green agnolots, with burrata and black cabbage, seasoned with tomato cream, basil cream, dehydrated yellow pepper and Olio Poldo
Ingredients for 5 persons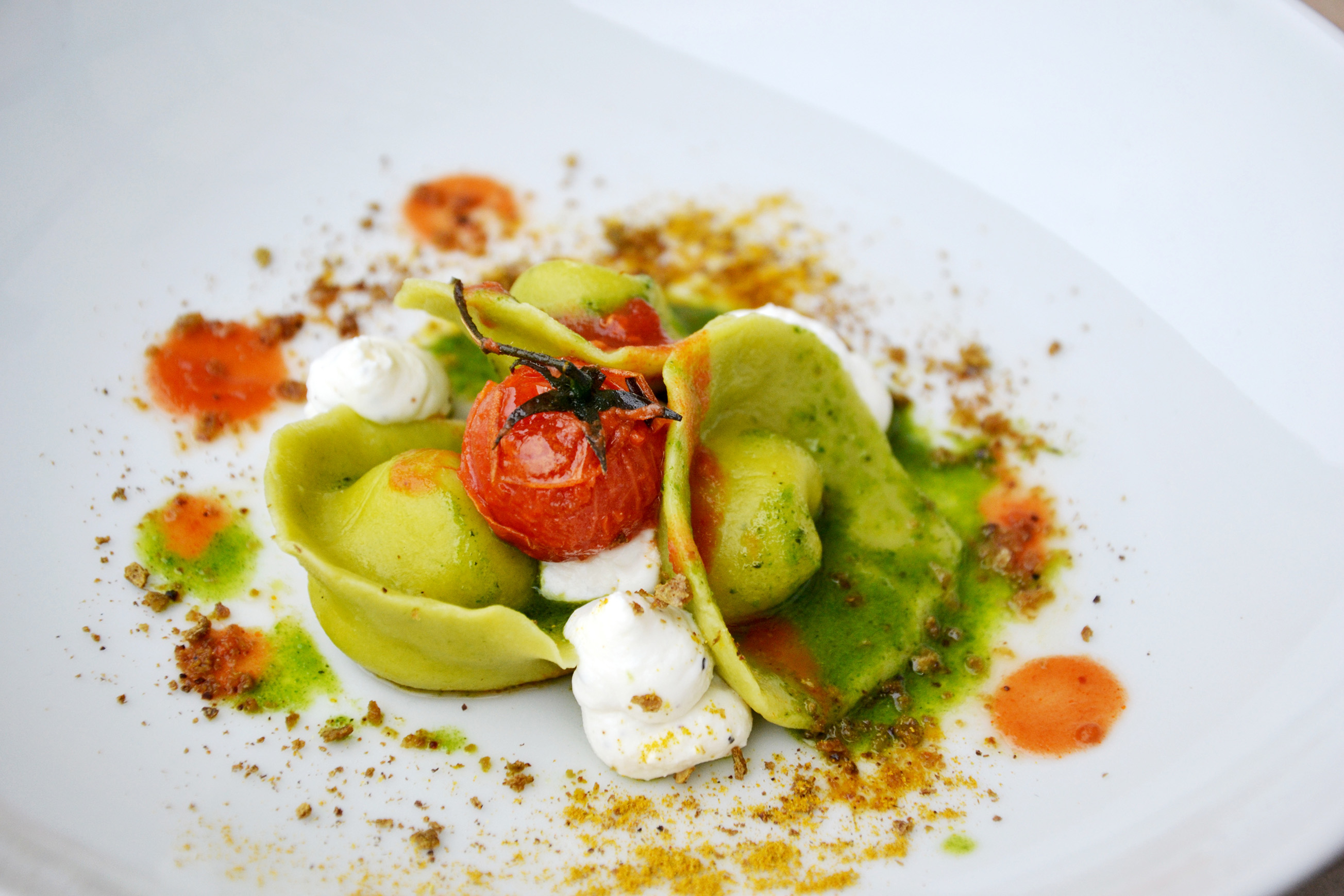 Pasta ingredients:
3 eggs
400 gr flour
10 ml of Olio Poldo monovarietale leccino
40 gr of spinach cream
Stuffing ingredients
80 gr black cabbage
130 gr burrata
20 gr Parmesan cheese
salt
pepper
Condiment:
1 marinated cherry tomatoes per serving (blanched and marinated with salt oil and thyme oil)
50 gr burrata (salt and pepper shake)
Tomato cream (tomato sauce reduction)
Basil cream (basil balmy, then cooled in water and ice and smoothed with oil and salt)
Olio Poldo Monocultivar Leccino
Dehydrated pepper powder (peppers cooked at 80 °C for 2 hours, then dried and milled)
Dough process:
In a planetary pour the eggs, mix for a few minutes and then add the sifted flour and cream of spinach.Knead for a few minutes and just add the oil for the last time. Continue to blend in order to obtain a soft, homogeneous and smooth compound.Let it rest for about half an hour in the fridge wrapped in the pellicle. After half an hour spread the leaf very thin with the aid of a rolling pin and with a pasta cup we go to create a round shape, then inside we go to put the cream of black cabbage and burrata and close in shape Classic tortellone.
Filling process:
In a frying pan put an oil wire and skip the previously clean and balmy black cabbage. Adjust salt and pepper and allow to cool. Once the black cabbage is cold, combine all the ingredients: cabbage, burrata, parmesan, and with the aid of a minipimer to shake in order to obtain a soft and homogeneous mixture. Adjust salt and pepper, so our beard will be ready to be used.
At this point we have all the ingredients ready to make the tortelli and once cooked we will assemble the dish as we like. Let's finish with drops of Olio Poldo Monovarietale Leccino.
Preparation time: about 1 hour
Chef Carlo Le Rose
---
Linguine with mushrooms, pumpkin and crispy speck
Ingredients:
linguine Filotea garlic and parsley 250 g;
Pleurotus mushrooms (other kinds of mushrooms are fine);
pumpkin;
speck (it's better if it's not too thin);
Salt to taste.
Preparation:
Cut the mushrooms into small pieces after having cleaned them from the dirt and the end of the stem. Then cut the pumpkin into small cubes and cut the bacon into sticks of about 3 cm (1 in).
In a large pan put plenty of oil and lightly brown the mushrooms, cover and cook at low heat for about 5 minutes. Then add the pumpkin, adjust with the salt, mix and cook for another 5-6 minutes.
Be careful not to let reduce the pumpkin to mush, they should remain compact. If they get too much dried, it's still possible add a bit of hot water.
Meanwhile, toast the sticks of speck in a nonstick frying pan without oil. When they become crisp they are ready and should be kept aside.
Finally, cook the linguine that should be boiled for about 2 minutes, drained and poured into the pan with the seasoning of mushrooms and pumpkin.
Then sauté over a high flame for a minute, serve, decorate with a few crispy speck sticks and add a bit of Leccino Monocultivar.
Enjoy your meal!
Recipe by I sognatori di cucina e nuvole
---
Other recipes